Launching June 2021, Escape Mocktails is a newcomer to the non alcoholic drink scene. They have a wide selection of non alcoholic spirits, liqueurs, and premixed NA cocktails.
I have only tried a couple of their zeroproof liquors so far, but have really liked them.
Today, we're going to take a look at their Single Malt Scotch and see how well it holds up.
See where Escape Single Malt Scotch ranks on our list of best non alcoholic whiskeys.
Nose
The initial nose of Escape's scotch is very light and mellow. It's a bit difficult for me to pick up on too much because there's just not a whole lot of smell there.
I can pick up on some light notes of oak, fruit, caramel and just a touch of vanilla.
But there's not much intensity in the nose.
Closing my eyes and smelling, I can pick up on some smoky type flavor, but the flavor as a whole reminds me more of like a light smelling fruit juice versus a whiskey.
Neat Tasting Notes
Taking a sip of the Single Malt Scotch I can taste some malt along with a woody oak flavor which moves into a smoky type of flavor that lingers in the finish.
There's a nice burn to the drink in the mouth.
It's not the same kind of initial punch of burn that you get with alcohol, but the spicy type of burn you'd expect from a hot pepper.
However, it's much more intense than the other non alcoholic whiskeys I've tried. Personally, I'm a huge fan of this.
Most of the other NA whiskeys have been too bland and way too mellow for my taste. They would have a slight spice in the back of the throat after swallowing, but not much more than that.
With this non alcoholic scotch whiskey you get the burn almost immediately after swallowing, and it hits your entire mouth versus just the back of the throat.
Be mindful though, if you're not a fan of spicy heats, this may be a little too intense for you.
In the finish of the drink, I do pick up on some very light notes of vanilla.
Taking a sip, you get an initial earthy malt type flavor along with flavors of oak. Immediately upon swallowing, you get a kick of heat in your mouth. This then moves into a smokey type flavor and finishes out with some notes of vanilla and a lingering mouth spice.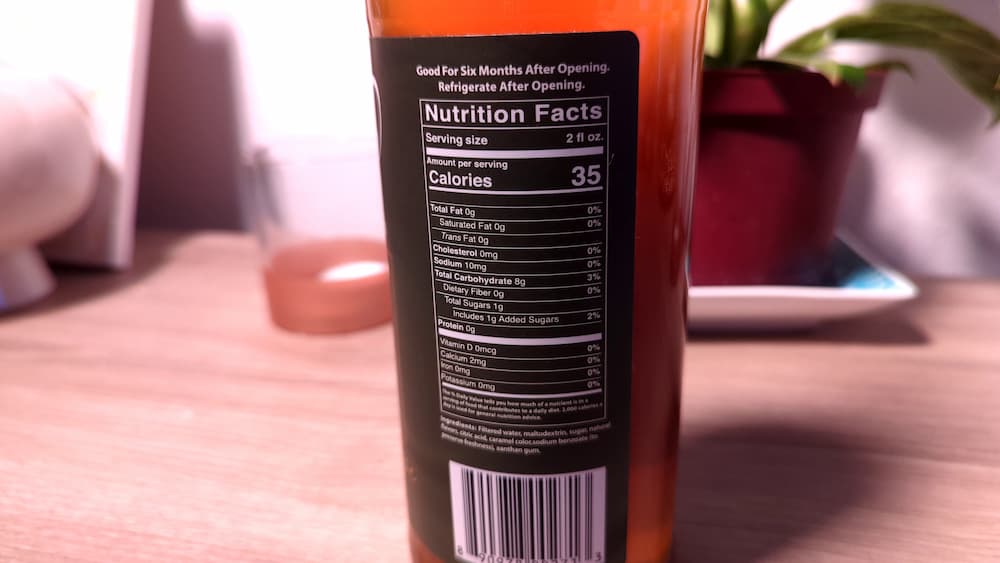 On the Rocks
Pouring it on a block of whisky ice and letting it sit for a minute doesn't seem to affect the flavor too much, which is a definite positive.
It still maintains the malt, oak and smoke flavors.
The hit of spice is still there and might actually intensify slightly with the addition of the ice.
However, I'm not really picking up on the vanilla notes as I was before. It is still there, but very slightly. The finish is mostly the smoke and spice now.
As a whole, I think the Escape Single Malt holds up very well with the addition of ice and maintains its flavor well.
Escape Mocktails Recipes
Escape lists some non alcoholic cocktail recipes on their website, but only lists one for their scotch.
So I went ahead and put together a few recipes that should play well with this NA Scotch.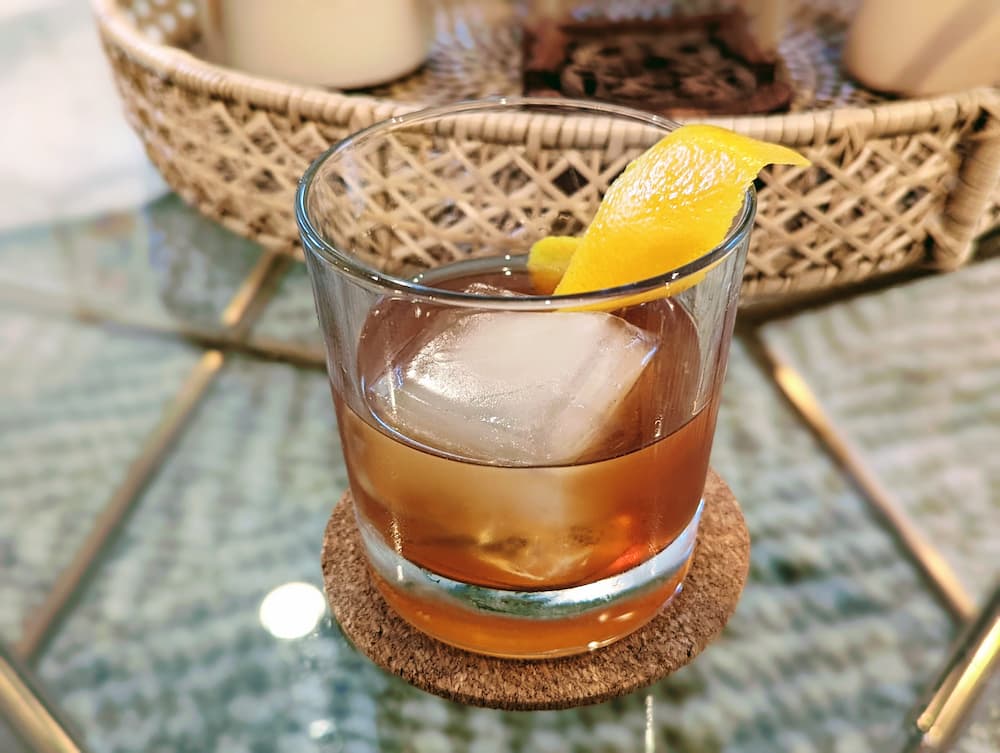 Scotch NA Old Fashioned
2 ounces of Escape Scotch
1 tsp of bourbon barrel aged simple syrup
2 dashes of Angostura aromatic bitters
1 dash of Bittertruth aromatic bitters
1 dash of bourbon barrel aged orange bitters
Orange wedge
Method:
Add all ingredients into cocktail mixing glass with ice
Stir until chilled
Strain into old fashioned glass with whisky ice cube
Twist orange wedge over the glass to express the oils
Slide orange twist over the lip of the glass
Then place orange twist on the side of the glass for garnish
Impressions
I think that this old fashioned tastes very good.
There's a good initial flavor. The Escape Scotch holds up well with the addition of the other flavors.
You can still pick up on the malt, oak and the smoke flavors, though they are not as bold as they were by themselves.
The barrel aged simple syrup and bitters add some additional complexity, though I think when I make this again I won't add the barrel aged orange bitters. There's too much of citrus bitterness in the back of the throat that takes away from the overall enjoyment of the drink.
Despite the addition of the other ingredients the spice still kicks in pretty strongly after swallowing, though it doesn't hit the mouth as much as it did when drinking it neat. Though this may be a positive for anyone who doesn't like spiciness.
I think as a standalone drink this non alcoholic old fashioned holds its own very well. It's definitely the best old fashioned that I've had when using the non alcoholic spirits I've reviewed so far.
Now, it's not as good as a traditional old fashioned, but for a liquor free version, it's the best that I've had.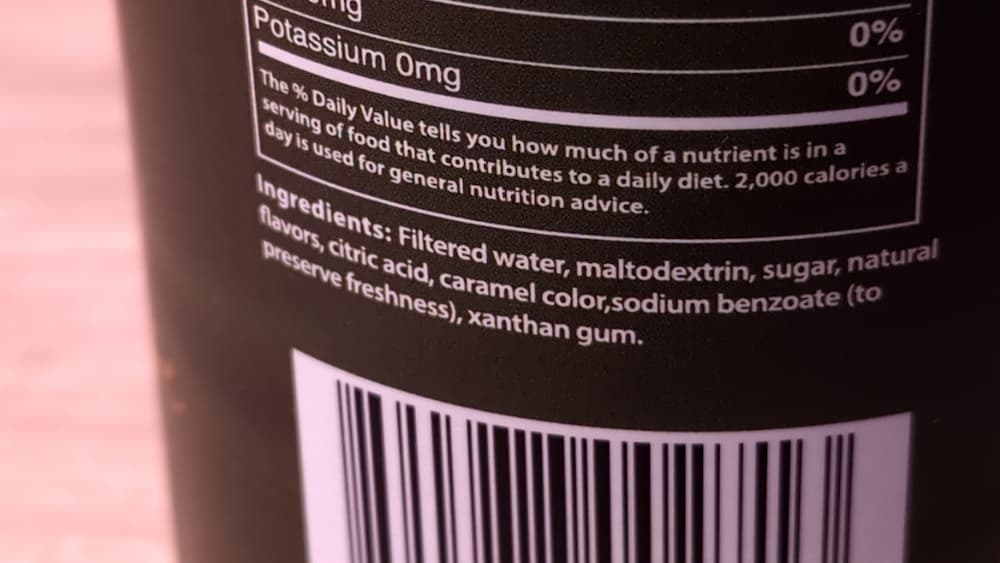 NA Scotch Sour
2 ounces Escape Scotch Whiskey
1 ounce freshly squeezed lemon juice
.5 ounce bourbon barrel aged simple syrup (or Demerara simple syrup)
.5 ounce egg white
Lemon twist for garnish
Method:
Add scotch whiskey, lemon juice, and simple syrup into mixing glass with ice and stir until chilled
Strain into another mixing glass, add egg white, and froth with milk frother (can also shake instead)
Pour into old fashioned glass with whiskey ice cube
Garnish with lemon twist
NA Rob Roy
2 ounces Escape Scotch
.75 ounce non alcoholic sweet vermouth
3 dashes of Angostura bitters
Garnish with cocktail cherries
Method:
Add all ingredients together into mixing glass
Add ice and stir until well chilled
Strain into cocktail glass
Garnish with speared cherries

Conclusion
So far, Escape Single Malt Scotch has been my favorite non alcholic whiskey alternative.
I think they did a very good job with the flavor profile overall and the addition of the extra spiciness adds a nice kick and intensity to the drink that most other NA whiskeys just haven't had.
It would be great if Escape Mocktails came out with a bourbon inspired zeroproof liquor, but for now, I think that this will provide a great base to create some complex non alcoholic cocktails.
While the spiciness may not be for everyone, if you're looking for a decently intense NA whiskey, you should definitely check out Escape Single Malt Scotch whisky.