The Spirit Of Bourbon is a non alcoholic bourbon alternative created by the Free Spirits Company based in Marin County, California.
Free Spirits states that their zero proof liquors are designed through a unique process called Distillate Reconstruction. Where they analyze and identity the unique flavor profile of the particular spirit.
They then focus on recreating the flavor profile in a non alcoholic fashion.
Additionally, they add in B vitamins to help provide a mood boost when consumed to help elevate your social interactions.
They state The Spirit Of Bourbon can be consumed in any way that you'd typically drink a bourbon, whether neat, on the rocks, or in a cocktail.
I'll be testing out this bourbon alternative to give you an idea of how it tastes on its own and how well it compares to the original thing.
Where does The Spirit Of Bourbon rank on our list of the top non alcoholic whiskeys? Click here to find out.
Shop Online For Free Spirits The Spirit of Bourbon
The Nose
The first whiff that you pick up from The Spirit Of Bourbon almost has an alcoholic whiskey scent.
It's a mix between alcohol and vanilla.
As I focus in on some of the other notes, there's a sweet aroma, almost like a butterscotch smell.
I'm not picking up any oak or smokey type notes despite those being listed on various nose profiles for this bottle.
The scent is sweet smelling, but not overwhelmingly so.
Overall, it has a nice smell to it that does surprisingly well at replicating the scent of a sweet smelling bourbon.
Drinking It Neat
Thankfully, despite the sweet smell, it doesn't have a sweet taste to it.
The first taste of The Spirit Of Bourbon is very mellow.
In order of taste, you first pick up on some hints of oak and malt. There's a slight caramel or brown sugar flavor, but not the sweetness. After swallowing there's a slight burn, like what you'd get after eating a hot pepper, in your mouth and barely in the back of the throat.
The flavor profile overall is very light. As in, there's not a ton of flavor, though it is not as watered down as some of the other non alcoholic whiskeys I've tried.
It is lacking the intensity that you'd expect from traditional spirits, though it seems that characteristic is very difficult to replicate in a NA.
Swishing The Spirit Of Bourbon around in the mouth you pick up on the oak flavor more, though it's a bit hard to confidently say that is the flavor that's being tasted.
It's definitely an earthy type flavor, but I can't say it particularly tastes like oak, but I'm not quite sure what else it could be. I just can't think of anything in particular that describes it better.
The spiciness in the mouth gets more intense the longer that you keep this non alcoholic spirit in your mouth. Though, it doesn't feel spicy until you swallow.
The flavor profile of The Spirit Of Bourbon is okay. It's not amazing, though I don't think it's terrible.
To me, it just doesn't capture all the nuances of a good bourbon very well. The flavor is a little simple, and it misses the intensity that I look for out of whiskey.
With that said, it is a much better attempt at an alcohol free spirit than many of the others that I've tried.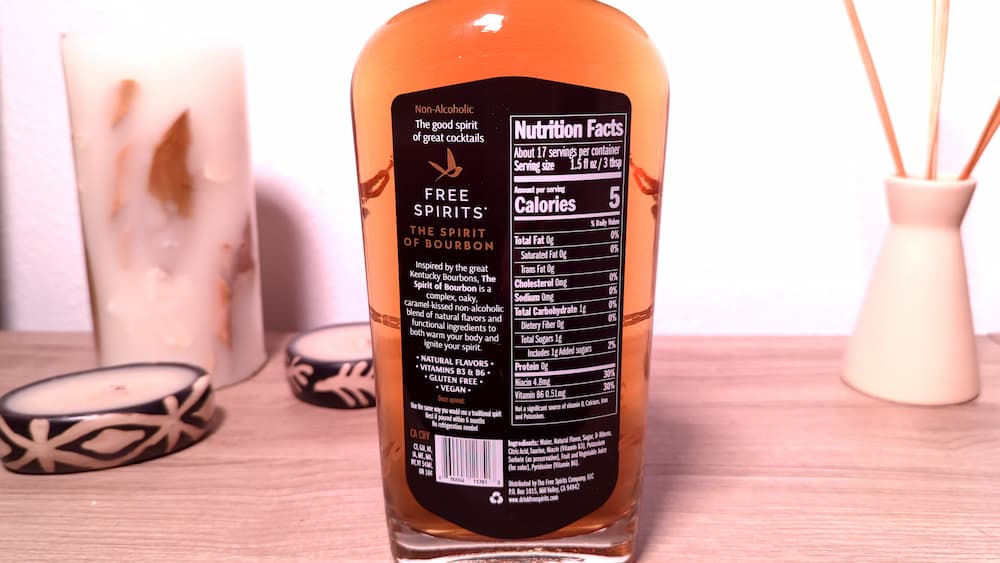 On the Rocks
Drinking The Spirit Of Bourbon on the rocks seems to accentuate the spiciness of the drink a bit, while also watering down the other flavors.
The intensity of the drink was already lacking quite a bit. Introducing ice into the equation reduces the flavor quite a bit.
With the whisky ice cube in the drink for a couple of minutes, you can still pick up on the flavors that were noticeable while drinking it neat, however, they are more watered down.
Additionally, other that emphasizing the capsaicin type spice, drinking this on the rocks doesn't add anything to the drink.
The Spirit Of Bourbon Nonalcoholic Cocktail Recipes
Free Spirits states on their website that they don't like the term, mocktails, in reference to non alcoholic cocktails.
I understand their reasoning for this as the term mocktail has an underlying assumption that it's not the real thing or that it's inferior to the original. However, most of the NA cocktails that I've tried and seen recipes for aren't real and are inferior.
Why?
Because they're simply taking a time tested cocktail and switching out the original liquor with their alcohol free spirit substitute.
This would be fine if the substitute actually tasted like the original, but it doesn't.
This isn't to say that they're bad, but unless a company is actually willing to accept the limitations of their offering, and then based on the flavor profile it actually provides, create a well blended and balanced cocktail… all they're left with is mocktails.
Okay, END RANT!
Let's go ahead and look at some of the recipes Free Spirits recommends to mix with The Spirit Of Bourbon.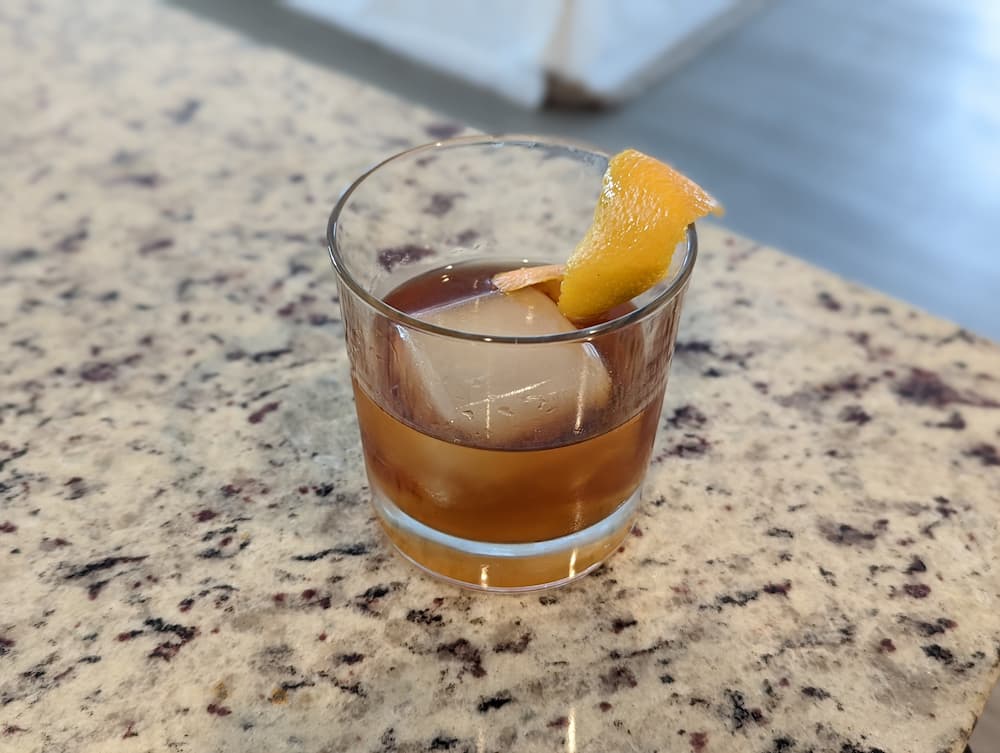 Free Spirits Maple Bourbon Old Fashioned
Recipe:
3 ounces of The Spirit of Bourbon
½ tsp of bourbon oak barrel aged maple syrup
Dash of Angostura bitters
Method with modifications:
Add in Spirit of Bourbon, maple syrup, and angostura bitters. (I added 1 dash of Angostura aromatic bitters and 1 dash of the BitterTruth Aromatic bitters)
Mix in cocktail mixing glass with ice until chilled
Pour into an old fashioned glass without ice (this will help avoid it getting too watered down)
Express orange peel over the glass and garnish
Impression:
The first taste of this NA old fashioned definitely left a lot to be desired.
The Spirit Of Bourbon works as the base liquid in the drink, but you can hardly pick up on any of the flavors that were noticeable when drinking it neat.
It seems to be working mostly as a base for the bitters.
Part of that may have been my fault here in using an extra dash of bitters, but I'm doubtful it would have made too much of a difference.
The flavor of the bourbon barrel maple syrup and the bitters do go well together and The Spirit Of Bourbon does offer a bit of a throat burn after swallowing it.
It's not a bad tasting mixed drink, but a bit disappointing.
You would not confuse this with an alcoholic drink, let alone an old fashioned. Overall, it's lacking the flavor profile and intensity you'd expect out of an old fashioned.
Free Spirits Bourbon Lemon Sour Cocktail
Recipe:
3 ounces of The Spirit Of Bourbon
3/4 ounce of freshly squeezed lemon juice
3/4 ounce of simple syrup
1/4 ounce of aquafaba or egg white
Method:
Add all of the ingredients into a cocktail shaker and fill with ice
Shake thoroughly until drink is well chilled
Strain into chilled glass
Garnish with a lemon peel and cherry
Free Spirits Bourbon Corduroy
Recipe:
2.5 ounces of The Spirit Of Bourbon
.75 ounces of warm spice simple syrup
1 ounce of pink grapefruit juice
.5 ounce of fresh lime juice
Method:
If you don't have warm spice simple syrup, you'll need to make that first:
Combine 1 cup water, 1 cup sugar, and 1 tbsp pumpkin spice in a saucepan
Heat mixture until ingredients have combined well and all of the sugar has dissolved
Remove from heat and allow time for the simple syrup to cool before using it
Mix the drink:
Start by adding all of the ingredients into a cocktail shaker and then add ice
Shake thoroughly until well chilled and all ingredients have blended
Strain into preferred cocktail glass
Sprinkle some cinnamon on top of the drink for garnish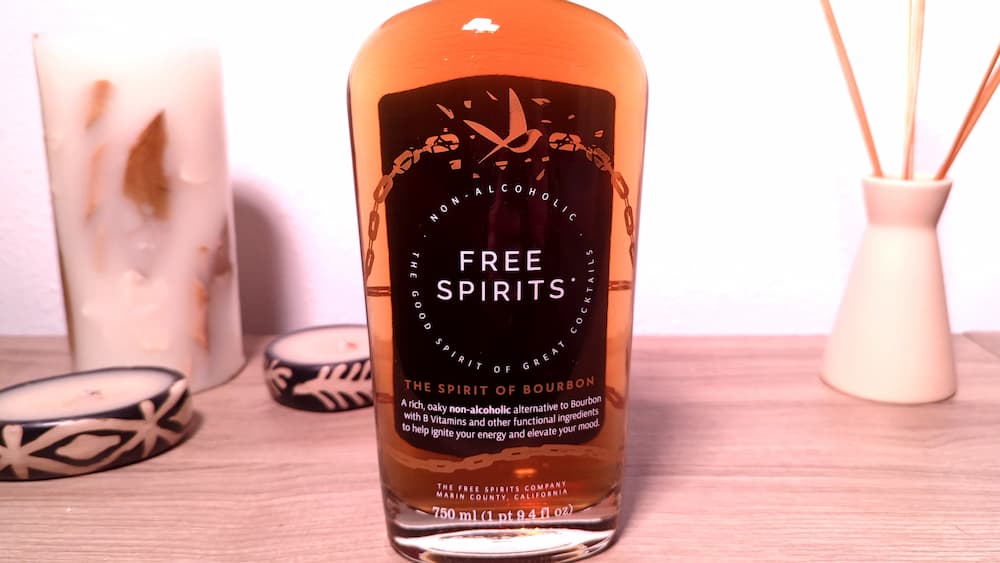 Closing Thoughts
Free Spirits' The Spirit Of Bourbon is an okay non alcoholic whiskey.
It's not the best, and it's not the worst out there, it's just… Okay.
Due to its overly mellow and light natural flavor profile, I'd say that The Spirit Of Bourbon is probably at its best when consumed neat.
That's not to say that I think it's particularly amazing neat, but at least without the interference of ice or any other ingredients you can pick up on some of the subtle flavors this drink offers.
Once it's poured on the rocks or mixed in a cocktail, you quickly lose just about everything there is to be tasted with The Spirit Of Bourbon, outside a little throat burn.
If you're in the mood to try a NA bourbon you could do worse than The Spirit Of Bourbon.
As long as you're willing to try it out with your expectations checked, you should be good to go.
Shop Online For Free Spirits The Spirit of Bourbon