The non alcoholic liquor space is exploding. There are more and more products coming out all of the time.
For those of us looking for unique alcohol free offerings, it's an exciting time, but can also be a bit frustrating.
With a quick Google search for non alcoholic liquors you'll find quite a few different options out there, but unfortunately it's still a growing industry with plenty of room to grow up.
In the time being, it's easy to find a product that promises a realistic recreation of a certain type of liquor, but ultimately doesn't live up to those promises.
Thankfully, Gnista isn't one of these.
Gnista's Barreled Oak offers a unique flavor profile that I believe lives up to its description and delivers a solid drink that is worth buying again.
Let's take a quick look at the company and then dive into the full review.
How does Gnista Barreled Oak compare to other dark alcohol free spirits? Find out here.
Shop Online For Gnista Barreled Oak
About Gnista
The Swedish company, Gnista, launched in 2019 with its first non alcoholic spirit, Floral Wormwood. Due to the reception and popularity of their first zero proof they decided to release another.
Gnista's Barreled Oak was created and launched via a Kickstarter in June 2020 with their second iteration focusing on creating a unique non alcoholic spirit focused on being a smoked oak recreation.
They state that the Gnista Barreled Oak isn't a non alcoholic whiskey alternative, but rather something new and unique.
From what I can tell, Gnista has had a very good reception in the NA (non-alcoholic) space and continues to be a fan favorite since its launch.
Today, I'm going to be writing up a review of Gnista's Barreled Oak, so you can know whether this spirit free spirit is right for you or not.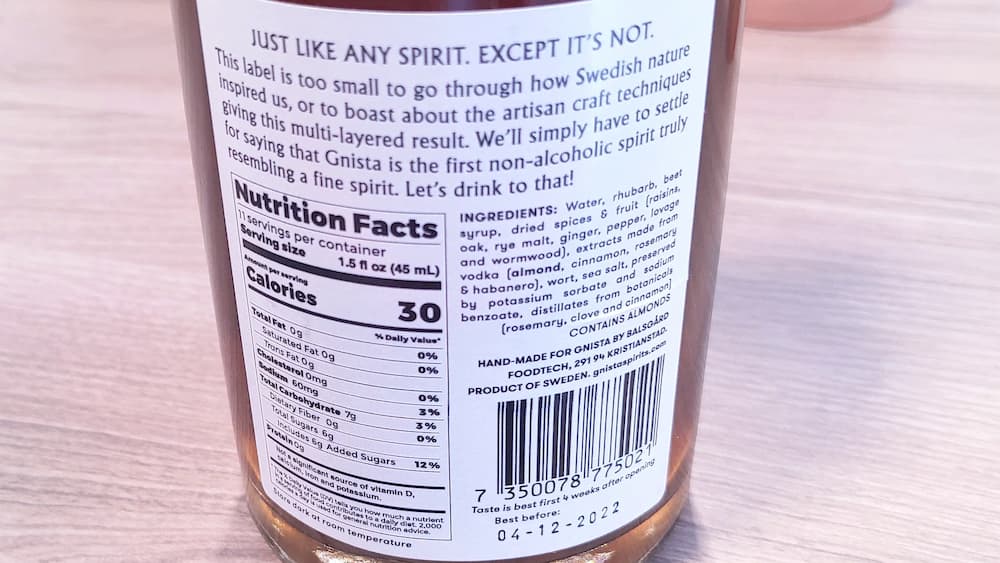 The Nose of Gnista Barreled Oak
The first thing I notice after pouring a glass of Gnista's Barreled Oak is a strong spice-like, herbal smell.
Almost like the smell you get when opening your pantry that holds your herbs and spices.
It's not overwhelming by any means, but it is a very strong and bold scent.
Focusing further, you can pick up on some fruity notes. It doesn't have a sweet smell per se, but very similar to the smell that you'd get when opening a bag of dried fruit.
There are traces of smokiness that you can pick up on, though it is very faint.
It has quite a dynamic smell to it, with multiple different notes that can be picked up on the more time that you give the process.
Overall, Gnista's barreled oak has a very pleasant smell to it that invites you in to take a drink.
Drinking Gnista Neat
At first taste, Gnista Barreled Oak has a sweet like flavor.
Thankfully, the initial flavor isn't overly sweet, but is reminiscent of raisins and honey.
It has a viscosity and mouth feel that's a bit thicker than water, but doesn't feel syrupy.
After swallowing, the flavor turns slightly to the bitter side, and you begin to taste more of the spice and herbal notes.
You can pick up on some slight notes of cinnamon and ginger.
I am also tasting what I believe is the rhubarb and beet that are listed on the ingredient label, but admittingly it's been a long time since I've had either, so I can't say that's the flavor 100%.
The finish ends with a smokey flavor and a bit of a peppercorn spice in the throat.
As a whole, the flavor of the Gnista Barreled Oak neat is very robust and complex. It has a very strong flavor, though not overwhelming.
I've read a few reviews with people stating that they needed to water this down because the flavor was too strong. Personally, I don't get that.
There is definitely a lot of flavor happening, but to me, it's just right.
Now, something that I think Gnista has going in its favor is that they're not trying to replicate a traditional spirit with this drink, but instead create something new.
They've positioned it as a non alcoholic smokey spirit, which I think it does pretty well.
If this were to be positioned purely as a whiskey alternative, which I've seen some websites do, it does not replicate the flavor or intensity of a whiskey. However, standing on its own, I think it delivers on the smoked fine spirit alternative pretty well.
The main thing I think that Gnista Barreled Oak is lacking is the intensity and heat you'd expect out of a traditional smoked spirit.
This is a pretty common problem most drinks in the non alcoholic space have. Though some of the newer offerings I've tested are beginning to address this a little better.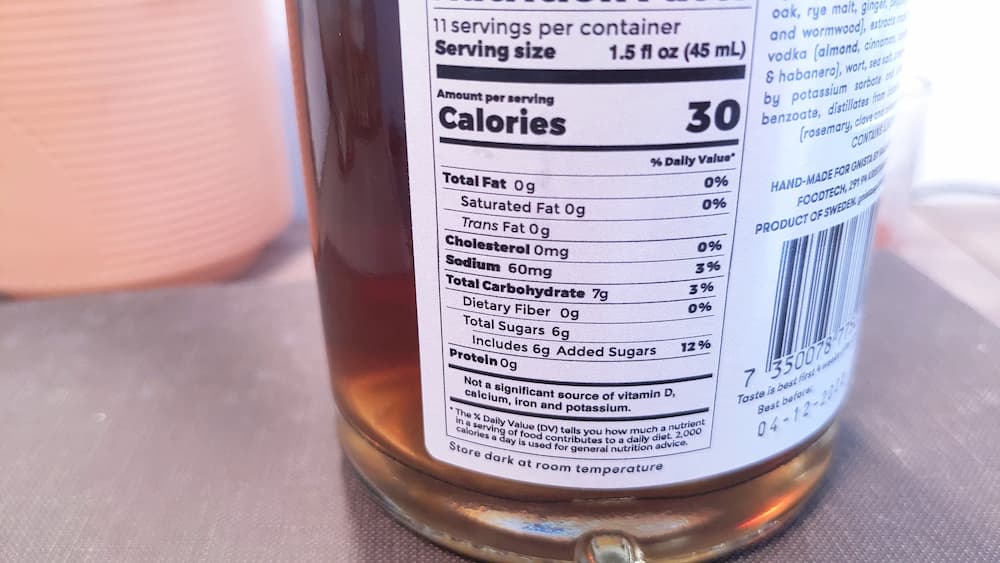 Barreled Oak On The Rocks
For me, not much changes when drinking this on the rocks.
The flavor maintains itself well even with the introduction of the ice.
I'm using a large whisky ice cube, so it's not going to get watered down as quickly as if I was using normal ice, but even with it nicely chilled, it's still maintaining the same initial sweetness of dried fruit taste.
The secondary bitter herbal flavor is tempered slightly as the water melts in with the barreled oak Gnista.
It still finishes with the smokey oak notes, but it seems the peppercorn finish with the spice in your throat is reduced. Which isn't the best as it was a little weak for my taste in the first place.
After leaving the glass to sit for a few minutes and allowing more of the ice to melt, the flavor was maintained pretty well. It did water down the strength a bit, but not to the point that it really tasted watered down.
On the rocks, the flavor profile maintained a strong consistency to drinking it neat and most of the flavor held strong throughout the entire drink.
Gnista In A Cocktail
Gnista's website lists a number of different cocktail / mocktail recipes.
For today, I'm going to choose the solid go to and make their listed Gnista Old Fashioned.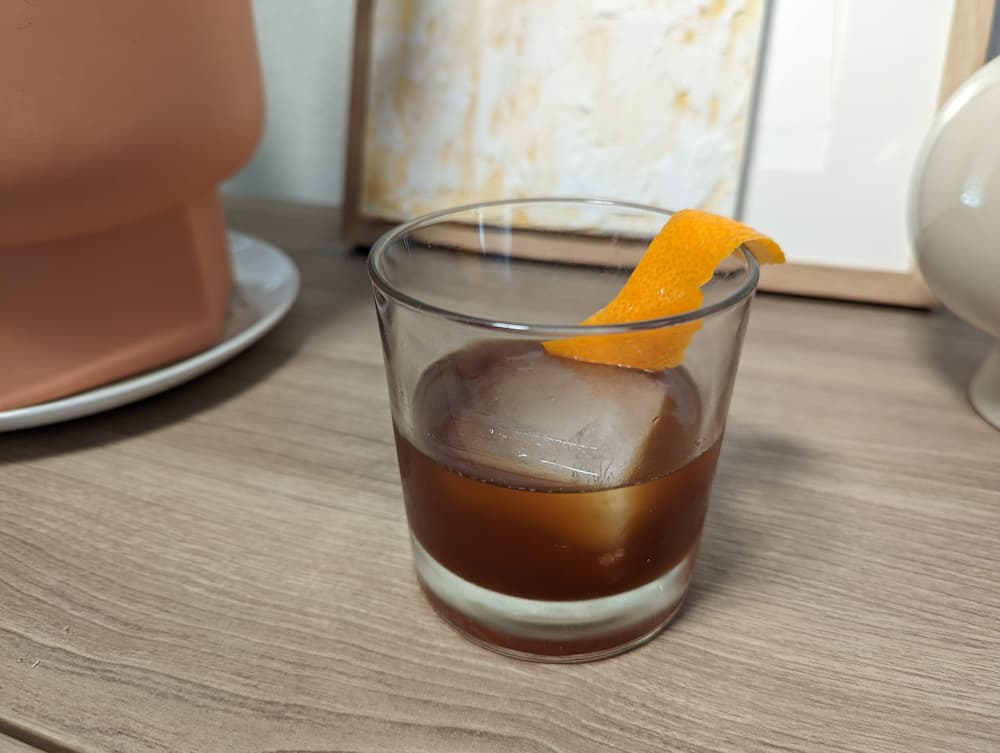 Gnista Old Fashioned
Gnista's recipe (converted into US measurements):
2 ounces Gnista Barreled Oak
5 grams Bitter Truth Bitters
1 tsp brown cane sugar
Orange peel for garnish
Gnista's Method:
No method listed on their website.
My Modifications:
After reading this recipe, I was a bit shocked at their recipe calling for 5 ml or 5 grams of Bitter Truth bitters.
A traditional old fashioned has 2 or 3 dashes of bitters which is nowhere near that amount.
I decided to cut it down while still using way more than I would normally use.
I also substituted out the brown cane sugar for the Demerara simple syrup I have on hand.
My Recipe:
2 ounces Gnista Barreled Oak
2 grams off Bitter Truth aromatic bitters
1 tsp Demerara simple syrup
Orange peel slice
My Method:
Add Gnista, Bitter Truth bitters, and Demerara simple syrup into mixing glass
Add ice and stir until drink fills chilled
Strain into an old fashioned glass with a whiskey ice cube
Express orange peel over glass and rub peel on the lip of the glass
Twist the orange peel and garnish the drink with it
Impressions:
The Gnista Old Fashioned is definitely not your typical old fashioned. It has a much more earthy and herbal flavor profile to it than a traditional whiskey old fashioned does.
It also lacks the heat and intensity that a traditional whiskey or bourbon brings to it, but if you look at it as a different type of drink, it does pretty well to stand on its own.
Flavor'wise, the Gnista old fashioned has a pretty good flavor to it.
It definitely has some very bitter notes to it due to the recipe calling for way more bitters than I've ever used in another cocktail.
The flavor of the Gnista, bitters, and Demerara simple syrup actually work very well together.
I'm glad that I only used 2 grams of bitters instead of the called for 4.7 grams (after conversion).
I can't imagine how this would have tasted if I had used that much bitters, but I can't imagine it would have been good.
As is, this non alcoholic take on the old fashioned is a drink with loads of flavor, but with an ending that leaves your mouth feeling a bit like you just chewed on an orange peel.
The nutmeg, cinnamon, anise, and cardamom flavors of the Bitter Truth bitters goes really well with the herbal and fruity flavors of the Gnista.
The drink doesn't taste overly sweet, but is sweeter than you'd expect from a traditional old fashioned.
Also, with all of the other flavors introduced I don't pick up any of the oak, smoke, or warm spices from the Gnista any longer.
You can tell this drink doesn't include alcohol in it and does lack the heat of the original.
For a simple mocktail recipe it tastes good, but just to be clear no one would get this mixed up with a traditional bourbon old fashioned.
Regardless, the Gnista Old Fashioned has a good, full-bodied flavor to it and I would make it again or make it for a friend looking for a good tasting mocktail.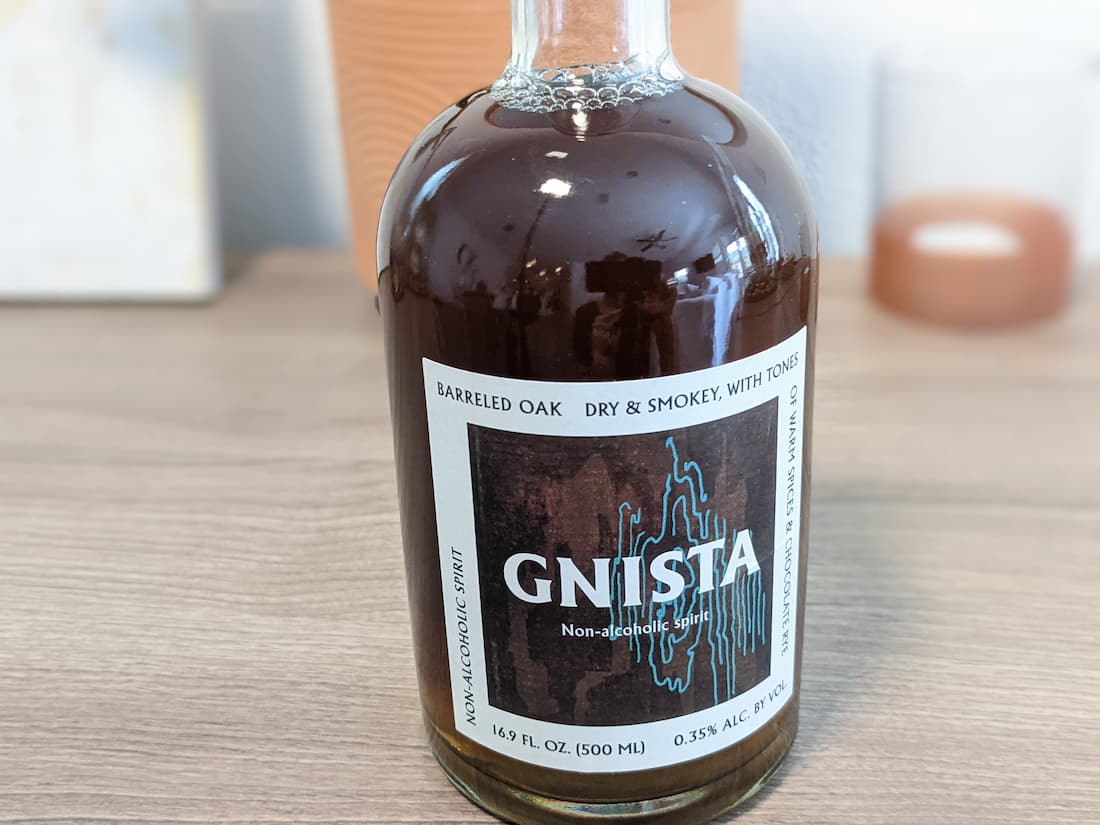 Final Thoughts Of The Gnista Barreled Oak
Overall, I have very positive feelings toward the Gnista Barreled Oak.
I think it does really well in delivering a solid non alcoholic drink with plenty of complexity to it and ultimately, a good flavor.
It needs to be made abundantly clear, despite this being listed on multiple "best of" lists, this isn't trying to be a NA whiskey which is probably why I like it as much as I do.
It lacks the heat and the type of intensity you'd expect out of a traditional liquor, but despite that, it has a lot going for it.
As a stand-alone drink, it does well in delivering complex flavors that include plenty of smokey oak type flavors.
It drinks well neat, on the rocks, or in a cocktail, and it definitely has a lot of distinct character that stands well all on its own.
So if you're looking for a unique barreled smokey oak, type of non alcoholic beverage, I definitely recommend checking out Gnista Barreled Oak.
Shop Online For Gnista Barreled Oak