Lyre's American Malt is a non-alcoholic whiskey alternative.
It is the first zero proof whiskey that I tested in my pursuit of finding a liquor free bourbon to use in mocktails.
Ultimately, I'd love to find a zeroproof that tastes more like a legitimate whiskey and less like a bottle of tea or smoked water, but that may be too much to ask…
However, one can hope.
Click here to find out the best non-alcoholic whiskeys, does Lyre's American Malt make it on the list?
Shop Online For Lyre's American Malt
About Lyre's American Malt
Lyre's American Malt was introduced in 2020 to a large amount of fan fare and even won an award in the 2020 San Francisco World Spirits Competition.
Lyre's seems to be one of the more well known brands in this space.
Manufactured and bottled in Australia, this NA Spirit uses 9 ingredients, contains 3 calories and 1 carb per serving.
The packaging and bottling of this American Malt is first class.
The colors, image quality and over all presentation of the bottle is top-notch and many other liquor brands could learn a thing or two from Lyre's example.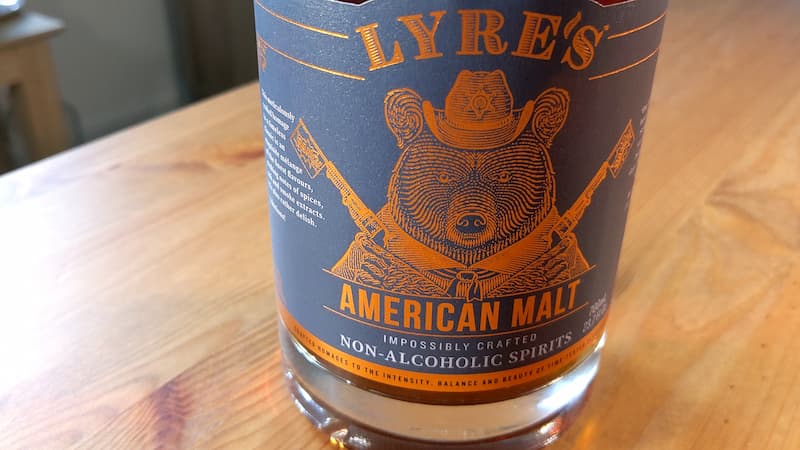 On the Nose
The nose from this Lyre's American Malt is complex and inviting.
I get a strong initial aroma of honey that transitions into a lingering caramel smokiness. It reminds me of a rich, slightly sweet spice aroma of malty, burnt brown sugar.
I don't get a real alcohol smell.
I have right next to me bottles of Maker's Mark whisky, Elijah Craig, and Johnnie Walker scotch which all have quite different mash bills, each of them have very different noses, but I can distinctly smell the alcohol from each of them.
I understand that Lyre's American Malt doesn't have alcohol in it, but I bring this up because if you were to be blindfolded and handed a glass of this, you would not think alcohol or whiskey, but probably some type of spiced tea.
Drinking Lyre's American Malt Neat
My initial sip of Lyre's American Malt did not leave me really wanting more.
Initial sips are fairly mild with a hint of honey, vanilla, and caramel.
Moments after swallowing there's a faint spice that hits your throat. Very reminiscent of the feeling you get after swallowing food that has a hint of jalapeño in it.
If you swish it around in your mouth for about 10 seconds you'll start to feel the spice in the rest of your mouth as well.
The overall impression I get after drinking Lyre's American Malt neat is that of a rooibos tea, sweetened with honey, that has some hints of jalapeño in it.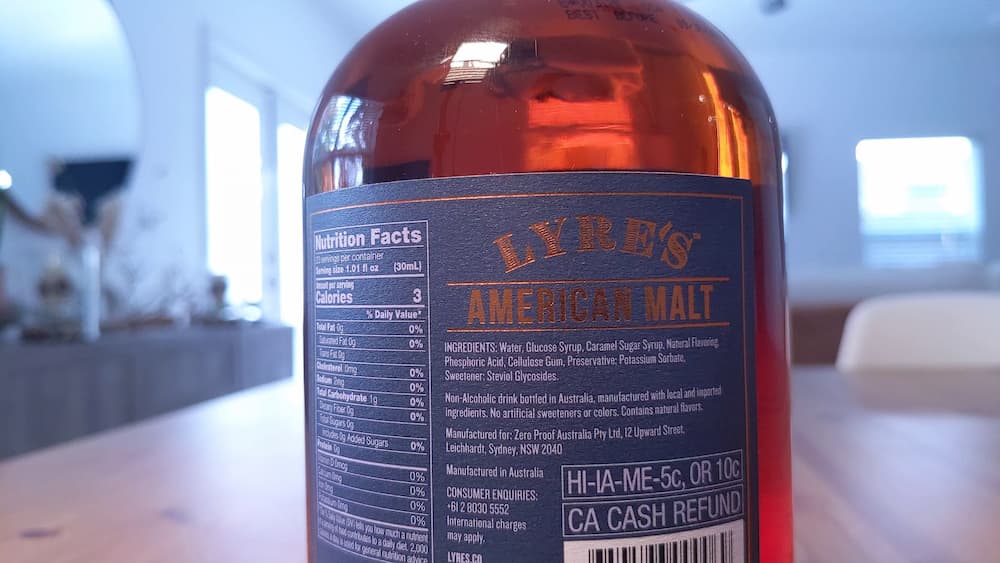 On the Rocks
When drinking on the rocks, the flavor profile does change slightly, though this is mostly in the finish.
I don't know if it's due to the fact that you have to sip the drink more due to the presence of the ice, or whether the water interacts with the ingredients and changes things, but it does shift the flavors.
Due to the presence of the water and the light flavor to begin with, the initial sip is much more watered down. You don't get the same initial honey flavors as you do when drinking it neat.
The biggest change, though, is in the finish.
On the rocks there's more of a lingering vanilla flavor in your throat along with a more intense throat spice.
This spice still doesn't compare to the heat you experience when drinking a true whiskey as the timing of the sensation and experience is completely different.
Lyre's American Malt Recommended Mocktails Recipes and Reviews
Lyre's website lists 5 specific mocktail recipes to use Lyre's American Malt in:
Lyre's Old Fashioned
Penicillin
Blackberry Smash
Whiskey Sour
Lyre's American Malt And Cola
I'm going to start with the Old Fashioned and depending on how it turns out, I'll decide whether I take the time to test out the other recipes or not.

Lyre's Old Fashioned
Manufacturer's recommended recipe:
2oz – Lyre's American Malt
5ml – simple syrup
2 dashes aromatic bitters
Method:
Stir briefly over fresh ice
My modifications:
2oz – Lyre's American Malt
1 tsp Demerara simple syrup
2 dashes Angostura bitters
1 dash Bitter Truth bitters
My method:
Stir ingredients with ice
Strain into Old Fashioned glass with Whiskey ice cub
Take sliver of orange peel, express over glass, and rub peel on lip of glass
Garnish with orange peel
Observations:
The flavor of the mocktail is pleasant. You really notice the bitters a lot more when they become the highlight instead of the accent flavor.
The drink was very sweet, especially in comparison to an authentic old fashioned which is almost the opposite of that.
The spiciness that was previously experienced when drinking it neat and on the rocks is almost virtually unnoticed once you introduce the other flavors into the drink.
You can still taste some of the vanilla notes that come through Lyre's American Malt, but that's about it.
Due to the herbal notes, it provides a closeness of flavor to some type of tea, and I almost felt like this drink should have been hot while drinking it.
The lack of bourbon is extremely apparent in this mocktail.
Overall, the Lyre's Old Fashioned recipe tastes good, but it unfortunately doesn't taste like an old fashioned. The flavor of this non alcoholic spirit just isn't bold enough to come through the addition of a little sugar and bitters.
Additional Non Alcoholic Cocktail Recipes
Since Lyre's American Malt transformed the flavor of the old fashioned I mixed so much, I'm not going to take the time to make the following recipes.
It just doesn't have the boldness of flavors to really shine through the syrups and juices.
So I don't see a need for any further testing, but did want to include the other recommended recipes for this non alcoholic bourbon for your reference.
Lyre's Penicillin Recipe:
2 oz Lyre's American Malt
.5 oz honey and ginger syrup
.5 oz lemon juice
1 oz Lapsang Souchong smoked tea
Directions:
Add ingredients into a cocktail shaker with ice
Briefly shake
Strain over whiskey ice cube
Garnish with skewered ginger cubes
Lyre's Blackberry Smash Recipe:
2 oz Lyre's American Malt
.5 oz simple syrup
.5 oz lime juice
7-8 mint leaves
4 blackberries
Directions:
Add blackberries, mint leaves, and simple syrup into a cocktail shaker
Muddle together
Add in the remaining ingredients and fill with ice
Shake thoroughly
Strain into a glass with fresh ice cubes
Garnish with a sprig of mint and a skewered blackberry
Lyre's Whiskey Sour Recipe
2.5 oz Lyre's American Malt
5. oz lemon juice
.25 oz simple syrup
.5 oz egg whites
Aromatic bitters
Directions:
Add Lyre's, simple syrup, lemon juice, and the egg whites into cocktail shaker
Vigorously shake for around 30 seconds with just these ingredients
Add in 3 dashes of Angostura bitters
Add heap of ice into the shaker and shake until chilled through
Strain into a chilled glass
Garnish with a maraschino cherry and lemon wedge
Lyre's American Malt and Cola Recipe
1.5 oz Lyre's American Malt
4 oz Coca-Cola or Pepsi
Directions:
Add ingredients into glass
Fill with ice
Stir until well chilled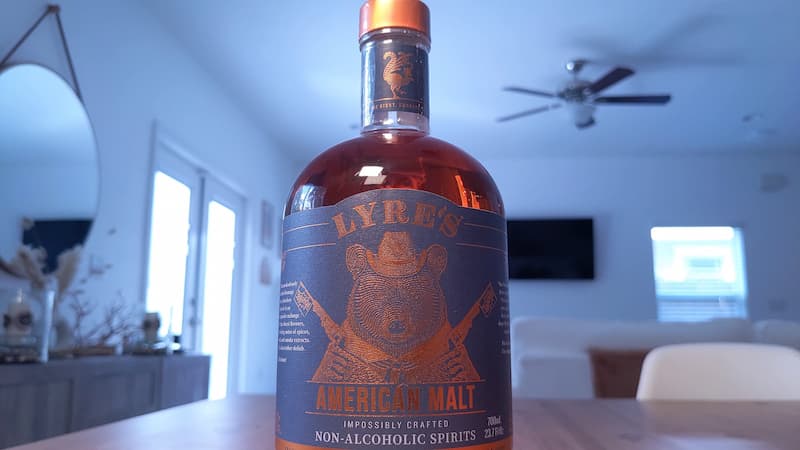 Final Thoughts
Lyre's American Malt is not the best or worst alcohol free spirits alternative that I've tried.
It has a very mild flavor, with notes of honey, caramel, and herbs (which mostly resemble that of a tea). As well as a hot pepper spice in the finish.
It has a good flavor to it whether drinking it neat, on the rocks, or in a cocktail; however, it does not taste like whiskey or a bourbon. The attempt at replicating the smell, flavor, and heat just doesn't due justice to an alcoholic bourbon.
If you're looking for an additional flavor to use for your mocktail recipes and aren't wanting the intensity that alcohol brings to a drink, then you should definitely try out Lyre's American Malt.
However, if you're expecting it to have the same taste and kick as a true whiskey, then you will be disappointed.
So as long as you know what you're getting into then you should definitely check out Lyre's American Malt.
Otherwise, stay tuned as we review other non alcoholic whiskey alternatives.
Shop Online For Lyre's American Malt